Dj Bone's News Archives from 2005
12-26-05
12-19-05
December Sanctus Playlist is now up. A very special thanks to everyone who came out last night. For many reasons it was a very special night for me.
Got Plans for New Years Eve? I'll be DJing at Urban Bar in Knoxville's Old City
Also been doing some site maintance, broken links should all be fixed now!
11-02-05
Wow! What more can I say than it was a helluva weekend...2 cities, 3 DJ gigs and a Nine Inch Nails in concert in 3 days. Needless to say I've a bit of catching up to do now....No rest for the wicked
My playlists for this weekends Urban, Sanctus, and NIN Aftershow are now up.
A big thanks to everyone who made it out to any of the events this weekend! It made for a VERYspecial Halloween Holiday for me. A special thanks to Jimmay and the NV crew for letting me "Bone" Nashville at the NIN aftershow. Was great getting to spin out there again. It's has been WAY to long. I hope to get out that way again soon, as I always enjoy the Nashville crowd.
Thanks again to everyone, and see you (if not before) at the next Sanctus
10-20-05
Downloads section now up.
09-12-05
First off let me say thanks to the ENTIRE KnoxGothic community who came out to Sanctus Last night, and gave Clothes & Cash for our Hurricane Relief effort. Huge Thanks to, Kim (DarkFaerie), Wasted Potential, Mother Mo, And Gear Up MotoSports for donating items to the raffel. We Raised $191 to help some of our own KG family displaced by Hurricane Katrina In NOLA, and brought in an ASSLOAD of clothes to send to Dave & Liz. It's moments like last night that go a long way to remind me why Arkady, Vader & I do all the work on/with KnoxGothic.com that we do. When someone is truely in need of help, this community does what it can to care of em. Thank you one and all.
You can Find my playlist from last night's Sanctus here
08-30-05
August Sanctus was a blast. Much thanks to Zeo for joining the regular DJ lineup and adding his flavor to the night. My Playlist from the night is available here.
07-21-05
07-19-05
July Sanctus Playlist Available
Let me start off by saying THANK YOU, to Wasted Potential, One Silver Hand, and all the models that helped out in making the Fashion Show at the July Sanctus a Hit!!!! A huge thanks to all of you who came out and partied with usas well. July was one of the biggest Sancti in months. Attendance was great (around 200), People looked fantastic, the Fashion Show was Awesume, and the Dance Floor stayed packed most all night long. The night was just plain fabulous! I couldn't be happier. Thank You, one and all!
Vader attempted to Video tape the Fashion Show. We will be checking it out this week. If all turned out well we have plans to put it online soon for those who were unable to make it out.
Weather or not you made it out, be sure to stop by Wasted Potential in Knoxville's "Old City" to check out their clothing lines and other cool stuff. One Silver Hands designs from the Fashion Show along with a few other things will be on display there as well as for sale there through the month of August. Get it before it's gone! Wasted Potential is shaping up to be one of the coolest stores in Knoxville EVER! Oh, and Tell em Bone Sent ya.
The August Sanctus Date will be announced in the next few days, so check back soon!
06-30-05
Next Sanctus Announced:
Sunday July 17th 2005.
Dress your best and show us your fashion! This month Sanctus is including a fashion show from Wasted Potential and Wearable Art Designs by Charlotte Whatley of One Silver Hand. You can view a few of the items that Charlotte will be showing here. Of cource I will be on hand along with DJs Arkady & Michael Xi spinning music for your dancing pleasure. Hope to see a bunch of you out!
06-20-05
The "Alice in Wonderland" Sanctus was a smashing success. My playlists from the night are now up.Thanks to Everyone who dressed the theme and came out to party with us. I had WAY to much fun last night. My photos from the night are now available too.
05-30-05
Big News for Synthesis Fans! "In the Fields" Video now Available for Download!
Arkady and I have finally started back to work on Synthesis, and we have just put up our multimedia project for download. It's a slideshow/video for our song - The Pilgram (In The Fields). Until we have the Synthesis website up and running again it's currently available on www.djarkady.com in the downloads section. Or simply USE THIS LINK . Feel Free to E-mail me and let me know what you think. Good stuff on the Synthesis horizon... Stay tuned here for whats going on!
Next Sanctus Date Announced: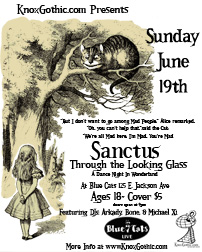 June 19th will be the next Sanctus!
05-16-05
Okay By popular demand, I have been working on the Photo/Art Gallery. Check out whats there, I will be adding A LOT more in the upcoming days.
A little early inside Sanctus info - July will be "Goths In Wonderland" theme. Watch here or KnoxGothic.com for more dates and more info
05-16-05
Bone's Star Warz Sanctus Playlist is up!
04-01-05
GothKids Available for Download!!!!!
Click the Pic for the mp3!
Much thanks to Will of the South Park Scriptorium for volunteering bandwidth! Will, You Rock!
Drop me an E-mail and let me know what you all think :)
03-27-05
Next Sanctus Date Announced:
April 24th will be the next Sanctus!
Due to Teenage Soup Concert at Blue Cats, Once again we are moved off Third Sunday. However things are in the works for a very special event on this night. Keep an eye here or Knoxgothic.com for coming announcement! I can't say any more on it now... but if things work right it will be big news for Knoxville!
To recap the last few weeks: Konglomerat at NV in Nashville was packed! Had a great wonderful time meeting people from around the region, as well as getting to spin with all the DJs. Sorry to any who were looking forward to my spinning for the short set, but when so many folk are on the rotation, sometimes the late sets get cut a bit short for time constraints. Ah well... Jimmay's wanting to bring me back soon for less DJ crowded night. I will be back.
Sanctus for march was amazing. We had giveaways of signed CDs from Assemblage 23, and BackAndToTheLeft (both appearing in Nashville April 18th) to some of the best Apocalypse outfits. ZeroAnjel threw down some great sets, the dance floor jammed and it was a helluva party. If you weren't there, you missed a great one. Special thanks to Trance for a sneak peek preview on the video screen of his new movie!
03-07-05
Well, First weekend down of my DJ tour! I want start by saying if I seemed a bit off to anyone, my apologies. It seems I was starting on the beginings of the Flu... My Apologies...Huge thanks and props to the Secret Room Society, and the Staff of Future in Underground Atlanta. Jason (of SRS) went out of his way to show me around and make sure I was comfortable and taken care of in the club. DJ Jennocide was a true pleasure to work with (thanks for the kind props and the new tunes!) If you dig some hardcore EBM and Industrial and are in the Atlanta area, make sure to expierence Jennocide's DJing. She Keeps a dance floor bumpin! I hope to get a chance to work with this crew again soon! Either way I will be back down to vist.
Playlist from the night is here!
Thanks to Mz Kitty and Junkie Christ for making the trek across Atlanta and stopping by after the Danzig show. Was nice to see some familiar faces from home.
BTW - if your a Dita Von Teese fan: Sat March 26th it looks like Dita will be performing at the Secret Room Party. Make your plans to be there now!!!!!!!!! Future is a beautiful club, with some very HOT bartenders, great sound system, and reasonable drink prices. In otherwords it gets my good bar stamp of approval.
All that said, Next stop....
Hope to See You There!!!!
02-21-05
Sanctus last night was a blast as usual! Gothkids went over better than I had expected or hoped for. The giveaway CDs disappeared as fast as I set them out. Sorry if you didn't get one, but I am looking into some hosting possibilities so the rest of you can download it. My Sanctus playlists for February is now up too.
In other exciting news, looks as if I will be doing the DJ Bone South East Tour during the month of March. Already on the list: Sat March 5th at the Secret Room Party, Sunday March 13th at NV in Nashville, and of course Sunday March 20th at Sanctus. Check back often, as soon as I have all the details on these events I will be posting details! Hope to see you all in March!
02-11-05
My new iBook G4 arrived from Apple, which has inspired me to get back to work on some music. My first single "GothKids" is done and will be available for download soon. Arkady & I are already making plans for a live version to be performed with Synthesis! Yes, more Synthesis is on the horizon! I will be debuting "GothKids" at the Sanctus Masquerade Ball - Sunday Feb 20th. I will have a few Limited Edition CDs singles of it I will be giving away!
Sanctus Teaser - Trip Hop fans GET THERE EARLY on Feb 20th (doors open at 9pm) and get ready to dance. You will be sorry if you miss my first set!
01-24-05
Urban Bar Playlist Update!
Sanctus Playlist Update!
01-09-05
Playlists from Urban Bar are now up!
01-04-05
Playlist from Acerbus Luminarium in Johnson City is up!
BonesLair.com is now temporarily hosting pictures for Wear Art Thou Fashions
Have a look and let me know what you think.
There will be Regular Updates and Construction
so Please Check Back Often
Lair | Who | Where | Playlists | Ask | Photo's | Reviews | Rants | Links | Thanks | Downloads
© BonesLair.com 2004-2005