Dj Bone's News Archives from 2006
12-07-06
Bones Music now on MySpace
You can find his music page HERE! Add Bone to you friends list and add his music to your own MySpace Page
Friday December 22nd 2006
Knox Gothics Nightmare Before X-Mas Party
w/ performances by White Lightnin' Burlesque
Fri December 22nd 2006, KG Productions will once again be throwing a holiday bash at
Blue Cats in Knoxville's Old City
Dance the night away to some of the best DJs in the Southeast, and if you missed Halloween, White Lightnin Burlesque is coming back for an Encore performance. DONT MISS IT!!!!!!
see www.KnoxGothic.com for more details
10-12-06
Bones remix of Spanking Machine's "Konstukt" Reviewed!
RE:GEN Magazine has done a review of the remixes from Spanking Machine. Read the review of Bone's remix HERE!
New DJ Dates Announced
Halloween is right around the corner. See where Bone's gonna be
9-20-06
The Revolution Has Begun!
Bone's "Konstruct 11 Remix" of Spanking Machine's "Konstruct" is now available on MySpace!
It's on the Spanking Machine Remix Page. If ya like it, add it to your Myspace Profile. While your in MySpace land be sure and drop by Bone's Page and add me to your friends!
9-19-06
Event Announcement:
Coming Oct 31st 2006
Knox Gothics 6th Annual Halloween Party
Tues Oct 31st 2006, KG Productions will once again be throwing Knoxville's Spookiest Halloween Party at
Blue Cats in Knoxville's Old City
More info to follow soon, but make you requests off of work on the following day... You'll need it! Good stuff in the works!
see www.KnoxGothic.com for more details
7-18-06
Tonight my friend, companion, child, guardian against mice and insects, and small fuzzy queen, of many years Milque Toast passed away.
Hope there are plenty of mice to chase in cat heaven.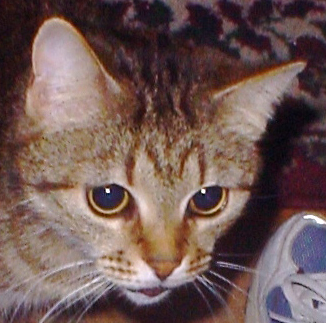 Rest in Peace Momma Toast, you will be missed.....
4-24-06
The Masquerade Ball Announced!
Friday May 26th, KG Productions presents the 3rd Annual Masquerade Ball with VOLTAIRE!
see www.KnoxGothic.com for more details
4-10-06
Coming Soon:
From the Somewhere Out There of a world that Bone lives in comes his first podcast: The Bone's Lair Podcast.
Warning: Scientific studies have shown prolonged exposure to this podcast has caused brain damage in laboratory rats!
Also on the Horizon: New Music and Remixes and DJ Performances from Bone!
3-16-06
NIN After Show Party Playlist is now up.
Thanks to Jimmay for joining Arkady & myself on the decks and throwing down a VERY sweet set . If you weren't there you missed a great night!
3-01-06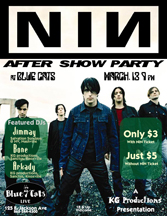 DJ Jimmay ( Nashville) will be joining myself and Arkady for the big Nine Inch Nails After Show Party at Blue Cats!
Spread the word and come join the party!
Masquerade Ball Update:
In order to book our Mystery Musical Guest it looks like the Masquerade Ball is going to be postponed till the end of May. But it will be worth the wait. We hope to make official announcement on the date and the "Band" on the 13th of March. Check back here or www.knoxgothic.com for more info!
1-31-06
BIG things on the horizon!
1-17-06
January Sanctus Playlist is now up. A thanks to everyone who came out last night. It was a helluva fun night. I would like to add special thanks to everyone who signed a "get well" valentines card for One Silver Hand. I collected 40 of em Sunday. I know they will mean a lot to her during her healing from her liver surgery.
You all rock!
Lair | Who | Where | Playlists | Ask | Photo's | Reviews | Rants | Links | Thanks | Downloads
© DJBone.com 2004-2007